Meta rolls out "Lock Your Facebook Profile" in the MENA region
Meta is bolstering the security and privacy options available to Facebook users to further underscore the company's commitment to user well-being.
The new "Lock Your Profile" feature is designed for people, especially women, who want more control over their Facebook app experience.
The feature is now accessible in all 7 MENA countries including Egypt, Iraq, Morocco, Saudi Arabia, Sudan, Turkey and United Arab Emirates.
Here is a brief description of the benefits and some tips for activating it:
New "Lock Your Profile" feature limits access to your profile, allowing you to manage your own app experience in a way that makes you feel comfortable
When this feature is turned on, non-friends can't zoom, share, or download your profile or cover photos.
They also won't be able to see any photos you've posted to your timeline at any time (whether historical or new).
Women, in particular, can now control who sees their private information and prevent strangers from misusing it.
How to use the "Lock your profile" feature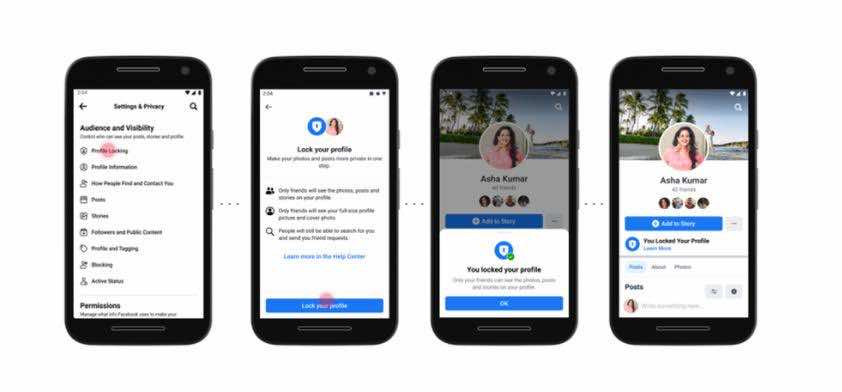 To activate this new feature, simply tap on the three dots under your name.
In the three dot menu you should see the option Lock your profile, click on it
This next page will show you how locking works, with an option to lock your profile at the bottom. Click on it
Your profile is now locked
You can also click on 'Settings and privacy' then 'Audience and visibility and 'Profile lock' to obtain the same result.
How to unblock your profile
Instead of the Lock your profile option, you will now see an Unlock profile option.
Tap on it and tap Unlock on the next screen.
You'll see a summary of how unlocking your profile works and an option to unlock your profile at the bottom.
Click on it and your profile will be unlocked.
Remember that you will not be able to post public messages if this feature is enabled. This is done to avoid accidental posting.