How to Lock Facebook Profile Via Desktop Computer or Mobile App
How to lock your Facebook profile for more security.
Facebook, one of the most popular social media apps, recently launched a new security feature for Indian users that allows them to completely lock their profile. The new feature allows users to control who views their profile and ensure that only their friends can see their photos and posts. This new feature gives users more control over their Facebook experience. The feature has been launched in some countries, including India only.
Once the new feature is activated, no one except your friends can zoom, share, or download your full-size profile photo or cover photo. This prevents others from seeing the posts on your timeline. Any posts that a user has shared publicly will be replaced with friends. Only a small portion of the "information about" will be visible to everyone on the profile.
To lock Facebook profile, here is a step by step guide
1. First of all, you will need to update your Facebook app by going to the Google Play Store or the Apple App Store.
2. Navigate to your profile page.
3. Next, navigate to "More" under your profile name.
4. Click on the drop-down menu and find the option "Lock profile". Then click on it.
5. Then you will receive a confirmation message on your screen.
6. Then click on "Lock your profile" to lock your profile.
What happens after your Facebook profile is locked
Once your profile is locked, only limited details will be visible to people who are not your friends. Your friends will still be able to see the following.
– All photos and messages on your profile.
– They will be able to see the cover photo or the full profile photo.
– Stories will be visible to friends.
– All new messages and photos will be visible.
Other than that, any posts that users have shared publicly in the past will automatically become "Friends only". Profile review and tag review will be enabled for users who lock their profile. Only a small portion of their About information will be visible to everyone on their profile.
How to lock a Facebook profile via a mobile app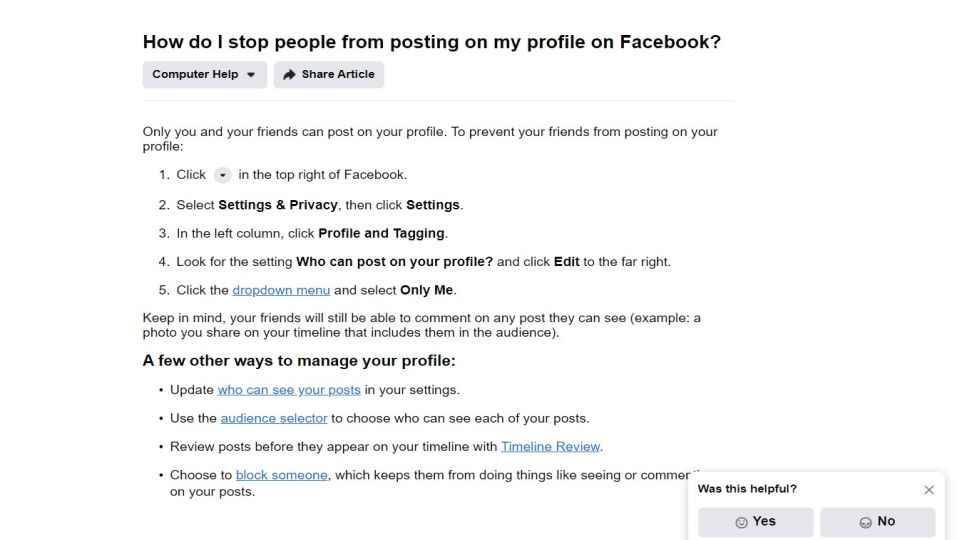 To lock your Facebook profile through the Android mobile app, follow the steps below.
1. First of all, you need to access your profile on the Facebook app
2. Next, tap on the three-dot menu icon next to "Add to story". You will be able to see a profile lock option, tap on it.
3. The next page will explain how it works with an option to lock your profile at the bottom, tap on it.
4. You should see a pop-up window saying "You have locked your profile", press OK
Here's how to lock Facebook profile through desktop
1. To lock your Facebook profile through the desktop, go to https://www.facebook.com/
2. Open the profile icon in the URL and replace "www" with "m" so that it reads "m.facebook.com/yourprofilename"
3. This will take you to the mobile version of Facebook on your desktop browser.
4. Then you will see a three dot menu next to the Edit Profile option.
5. In the three-dot menu, click the Lock profile option.
6. The next page shows how the lock works and users have the option to lock your profile at the bottom. Just click on it.
Your profile is now locked.
How to Disable Facebook Timeline Posting
Only you and your friends can post to your Facebook profile. To prevent your friends from posting to your Facebook profile, follow the steps below.
1. Click on the top right of Facebook
2. Choose Settings & Privacy, and then click Settings.
3. Next In the left column, click Profile and Tagging.
4. Check the "Who can post to your profile?" Setting.
5. Then click on the Edit option in the right corner.
6. Then, in the drop-down menu, choose the option "Me only".
However, your friends will still be able to post comments on any post they see on your profile, such as pictures they are tagged in.
How to unblock your Facebook profile
To unlock your Facebook profile, the steps are the same for the mobile app and the desktop.
1. Where users could see the Lock Profile option before, they can now see an Unlock Profile option.
2. Now click on it and tap on Unlock Profile on the next screen.
3. You will be able to see information on how unlocking your profile works. There is an option to unlock your profile at the bottom, just click on it and your profile will be unlocked.
Unlocking the Facebook profile will allow all users to see your posts, photos, etc. To maintain privacy, users also have the option of controlling privacy through privacy settings. Here are some of the things users can do to control who views your profile and other information.
1. They can use the privacy checker to ensure the complete privacy of their profile.
2. Select who they share posts, photos, and other information with.
3. Edit the basic information and choose who can see it.
4. Users also have the option to change the privacy settings of the story.
5. They can enable Profile Review to control privacy.
6. Activate the tag review option.
7. They have the option of activating Profile Picture Guard.
8. They can also use Control who can become a friend and follow you.
9. Stay in control and don't make your email or cell phone number public.
Key words:
how to lock Facebook on a mobile app
how to lock a Facebook account on the desktop
how to turn off Facebook timeline posting
lock Facebook profile
steps to lock Facebook
protect facebook profile
Unlocking Facebook Profile